I thought I would share with all of you the pie I baked this morning for our Thanksgiving. I love to bake and thought this would be a great recipe to share! This recipe is from Cooks Illustrated. Their recipes are amazing but you will dirty every dish in your kitchen before you are finished. I decided to save time and get a store bought pie crust from Trader Joes. This was the first time that I've ever done that and it was totally worth it! It saved so much time and dishes.
So here is the recipe:
If you make your own crust you would start with that first but since I didn't I just skipped right to the apple part. They use a combination of sweet and tart apples for the recipe. Here is what I started with for the filling:
1/2 cup granulated sugar (3 1/2 ounces), plus 1 teaspoon
1/4 cup packed light brown sugar (1 3/4 ounces)
1/4 teaspoon table salt
1 tablespoon lemon juice
1/2 teaspoon grated lemon zest
1/8 teaspoon ground cinnamon
2 1/2 pounds tart apples (firm), about 5 medium, peeled and cut into 1/4-inch-thick slices (see note)
2 1/2 pounds sweet apples (firm), about 5 medium, peeled and cut into 1/4-inch-thick slices (see note)
1 egg white, beaten lightly
Peal the apples and slice into 1/4 inch pieces, then put them in a bowl with the sugar, salt, lemon zest and cinnamon.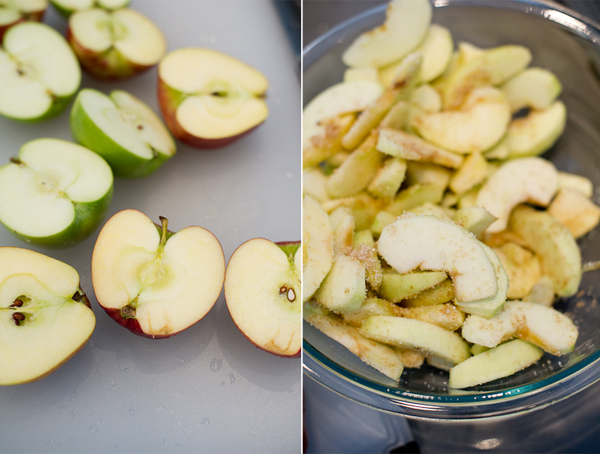 Toss apples with sugar mixture until well coated. Then place the apples in a large pot or dutch oven. Cook apples covered for 15-20 minutes stirring frequently. The apples will be soft but still hold their shape when finished.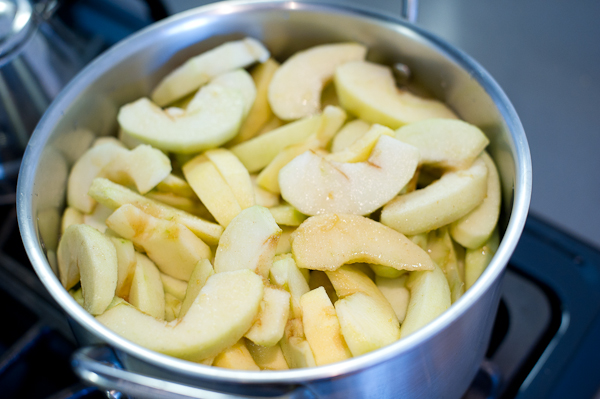 After apples have finished cooking pour apples onto a rimmed baking sheet to cool for 30 minutes.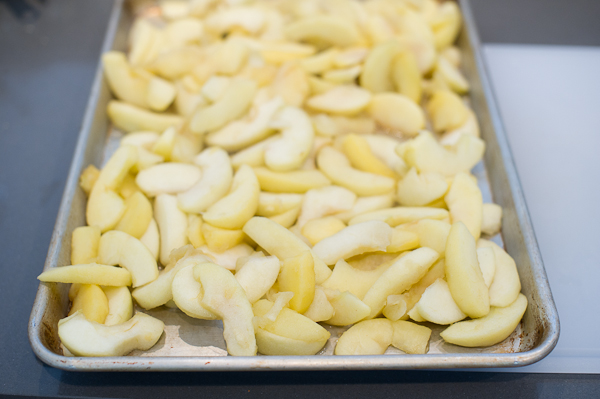 Once apples have cooled place them in a colander over a bowl to drain. (The Cooks Illustrated recipe says to discard the sugar apple juice! I didn't. I took the juice added a little more sugar and cooked it down. Then added some butter and added bourbon off heat. I will use it to drizzle over the pie with vanilla ice cream. You can do whatever you want with the juice!)
I took the pie crust out of the package and placed it into the pie dish. I then refrigerated it for another 30 minutes along with the top shell piece I rolled out and placed on a cutting board.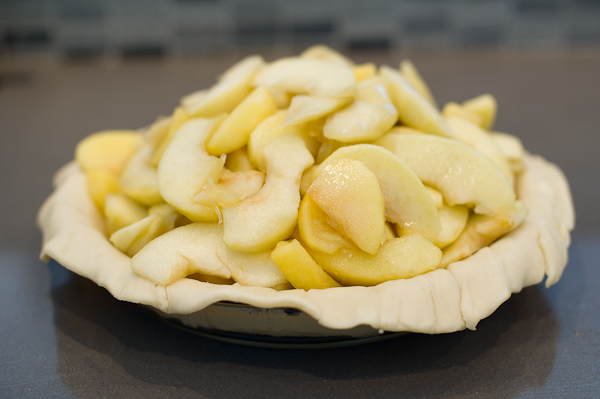 The picture on the left is the top crust on the pie and the two pieces of dough pressed together. Then I took kitchen scissors and cut around the pie leaving 3/4 inch overhang. Then I tucked the crust under so it was even with the pie dish. After that was done I pinched the edges of the pie to make it look fancy. Then I cut 4 2 inch slits in the top of the crust, brushed it with egg white and dusted it with some turbinado sugar. If you're unfamiliar with this type of sugar it is really great for tops of muffins or for the rim of a margarita glass. It went into the oven on a rimmed baking sheet for 45 minutes. After it was finished baking I placed it on a wire rack to cool completely.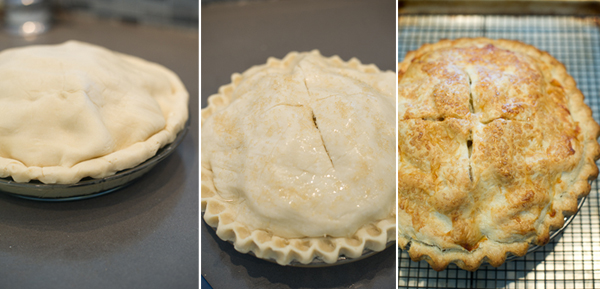 And ta da! The finished pie all ready to be eaten! Well, I'll have to take it to New Hampshire tomorrow so I hope it makes the drive in one piece. Or maybe I'll just eat it and say it didn't make it.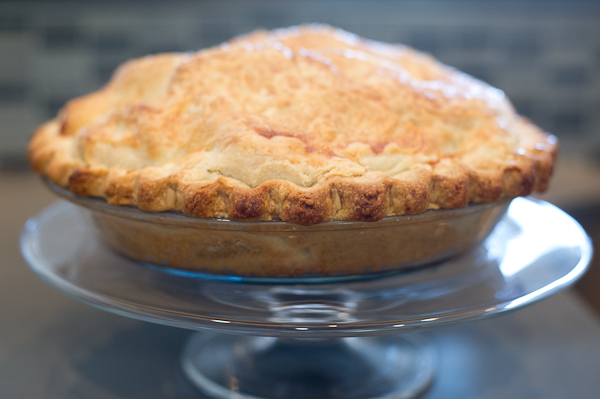 Whatever you're doing for Thanksgiving I hope you have a wonderful time celebrating with family and friends!